Joined

Jan 10, 2018
Messages

941
Here is the problem:

Here is the attempt I made: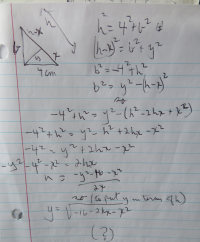 Actually I see that the final expression on the right should be squarerooted, but enough of that.
Now comes the solution given in the solutions manual. I have been puzzling over the this solution. Can't see how they go from the first step to the second. But here is the image:
How do they get 1/2 4y=1/2 ha? Where does that come from?