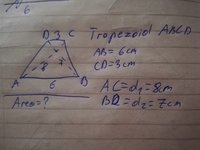 So I have a Trapezoid with bases 6cm and 3cm with diagonals 8cm and 7cm. No angles, no specific trapezoid. I need to find the Area of this Trapezoid. Im studying Trig for first year and so far these have been the formulas we've been taught(there are a few more but those are for Areas of other 4-sided figures). Excuse my handwriting.
I had a friend attempt this problem and he did it by using systems where he got that x=21/9 and in the end using normal triangle formulas to find the height(which we got to be sqrt(185)/3 which lead to the result of the area to be 20.40cm
2
It's all fine and dandy but the real-life problem is that it's expected we use trig for it and I'm asking for a solution where systems are avoided. Can I get some help?