A short box is full of liquid cleaning solution. A longer box needs to be cleaned with the liquid solution but does not fit entirely inside the short box.
1) Can the box be entirely cleaned?
2) If not, how much area will be missed?
3) If so, how many dips are required?
4) If just 2 dips are required, can they be done without having to turn the longer box upside down?
I currently just use a CAD software to find the answer through trial-and-error but academically I'd like to know a concise mathematical solution for it.
First, let's assume we can ignore depth and just focus on length and width.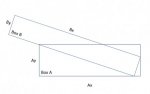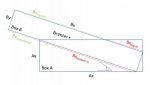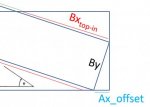 I'm not sure how to calculate Ax_offset without trial-and-error. The angle theta is based on the offset, but the offset is based on the angle.
Then it seems like a long route to calculate the remaining items to start answering questions.
If Bx_top_in is greater than half of Bx, I think it can be dipped in 2 dips without having to flip the box upside down.
If Bcenter falls inside of the small box but Bx_top_in is less than half of Bx, then I think it can be dipped in 2 dips but the longer box must be flipped upside down on the 2nd dip.
I can't currently imagine a scenario where 4 dips would accomplish anything 2 dips (with a flip) wouldn't.
Can anyone help with some strategies for solving (long-hand... for fun) the original questions.
Thanks in advance,
Mike