I just started an introduction to geometry course on edx.org and there's an (unexpected) Algebra question to figure out an angle, but I don't really know anything about algebra and how to figure it out. I'm sure it's an easy Algebra problem, but I have no background.
Could someone please show me how to do the work for this question to arrive at the correct answer?
Thank you.
Edit:
The above image is small, here's a thumbnail to the full size image, hosted with postimages.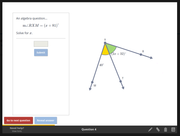 Last edited: