Joined

Jan 10, 2018
Messages

497
Here is the problem: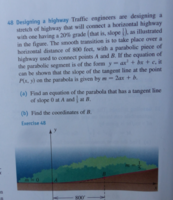 I don't recall ever being introduced to this business of tangent lines whose slopes can be used to find coordinates of points on a parabola. I spent about one and a half hours digging around and trying this and that but could not quite get a handle on the matter. I was able to figure out, by the fact that the one tangent line has a slope of 0 that the vertex of this parabola is (0,0), but could not see how to use the 1/5 slope to any advantage. I tried using it in a slope formula but had two unknowns and couldn't get any further. Here is some of what I tried:
So, as the feller said."What to do?"