Hello
I'm designing glass wall. It's prototype look like this: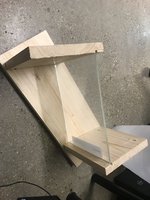 And this is how it looks in computer model when put between two columns.
(orange-timber ; cyan-glass ; white-existing walls)
The problem:
I need to find a specific width of the glass so that 8 of such timber/glass modules fit between my columns.
The width of the glass piece determines the total length of the wall.
Below is my attempt at calculating how does the width of Glass (variable a) is related to variable b. I hoped that this is the first step on solving my problem
On the drawing the orange dimensions are fixed and the pink ones change as the width of glass changes.
Please help!
Kacper