Hi Everyone ,
Could you please help on the geometry math ( see attached image) :
I have 2 plane (ABCDEFG) and (A1 B1 C1)
I have x,y,z for A,B,C,D,E,F,G where is z=0
I have x,y,z for A1,B1,C1 which are AA1 # BB1# CC1 ( z of A1,B1,C1 are different )
All lines AA1,BB1,CC1,DD1,EE1,FF2,GG1 are perpendicular with plane (ABCDEFG)
D1, E1, F1, G1 are in (A1,B1,C1) plane
How do I find the length of DD1, EE1, FF1 and GG1 ?
Is there a equation for it ?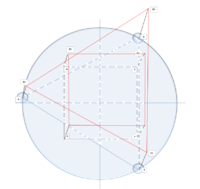 Thanks in advance !
Mark