Joined

Dec 15, 2017
Messages

111
Hi, I don't have much of an attempt here, but here goes nothing:
I'm trying to find the angle x marked in red, just trying to figure out methods using rules such as angles in a triangle, alternate etc.
I have two bearings marked in orange from Point X to points R and S which are 270 and 210 degrees respectively.
My thoughts are, angle RXS is actually 60 degrees, because of the bearing of S from X which is 210 degrees, and as you can see the 90 degree angle completes the full 360, so that is how I deduced this.
Angle TSX is 25 degrees because it's an alternate angle of the angle of depression of S from T which is also 25 degrees.
I'm racking my brain trying to see how I can single out x, I know it must be 25 minus something... but what?
All angles are in degrees by the way.
The question really asks to find the length of RS but I can do that easily once I have angle x in red.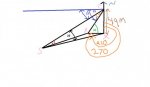 Last edited: