I've been trying to solve this question for an good amount of time with no avail, so I've come to seek help on this one:
The table shows the rate of inflow of water, in cubic feet per second, as measured every morning at
7:30 AM
by the US Army Corps of Engineers at a lake in Georgia. Use the Midpoint Rule to estimate the amount of water that flowed into this lake from
July 18th, 2013
at
7:30 AM
to
July 26th
at
7:30 AM.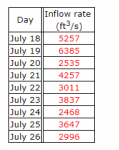 I've tried evaluating the midpoints like this: (y1+y2)/2 , (y2+y3)/2 , etc. , summing them all and then multiplying them by 60*60*24 (seconds per day). That was incorrect.
I tried using the sum of y2, y4, y6, y8 and then multiplying that by 2*(seconds per day). That also didn't work, so I am currently stumped on this last question on my assignment.
Please help, thanks.