Joined

Jul 17, 2019
Messages

2
Can you please help settle and ongoing argument between members of a group i am in. There seem to be Two camps.: those who pick "b" and those who insist the answer is "c"
This problem may seem very elementary... But it brought up all kinds of references to PEMDA and BODMAS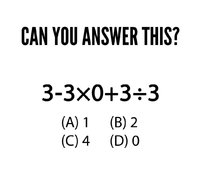 Here were some
Ok...
All the "A's" are wrong
All the "D"'s are wrong
Its either "B" or "C" depending on whether you add or subtract at the end of the equation:
3-3×0+3÷3=
3-0+1...
(can we all agree on that?)
Doing Muliplication THEN Division,
yields 3×0=0 and 3÷3=1 bring us to
3-0+1...
OR if you prefer, the BODMAS way, DIVIDE first
3÷3=1 and. THEN MULTIPLY 3×0=0,
Again yielding 3-0+1
So far, so good, either way it's 3-0+1
But then there SEEM to be two approaches:
If you say 3-0=3, and 3+1=4
You'll get 4...BUT
If you say 0+1=1, and 3-1=2
You'll get 2
BUT...Don't BOTH PEMDAS and BODMAS
say "A.S." at the end of the acronym?
So, doing the "ADDITION" FIRST...0+1=1,
and THEN the SUBTRACTION,
YOU GET 3-1=2
so i would say the "2's"
(or, the "B's") have it.
Just sayin....- lol
my thoughts: