Hi again. Could someone help me out with a an assignment?
Problem
Harmonic motion
A=5 cm
Figure shows the kinetic energy of the stone in motion. At 0,45 s the stone is below the state of equilibrium, determine how long from the equilibrium the stone is located at this time.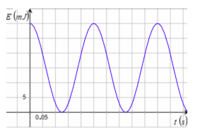 My question
They claim in the answer that the period from one top the next is a half period. What I have learned is that the distance between two peaks are a full period (360 degrees). Then I started to think about that the y-axis is measured in energy and not in length or velocity. Could this has something to do with that the period now is different?