I have been away from second order differential equations for 40 years so I am a bit rusty.
Reading this book on method of moments by Harrington I came across this simple boundary value problem with what is called the exact solution. I simply don't remember how that is done with a problem like this.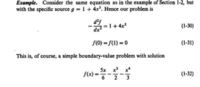 Can anyone explain how the solution was derived?
Thank You
Tom