Joined

May 22, 2018
Messages

16
Hello all. I am new here and will introduce myself in the appropriate forum.
I am first year CompSci and maths is a large part of my course. I was terrible at school maths, but I am enjoying varsity maths, albeit a struggle. Which is why I'm here! I have been doing exercises and would like your help.
The question here is "Is this true or false?"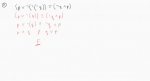 If my answer is incorrect, then would you so kind as to show me where I went wrong?