Joined

Jan 10, 2018
Messages

691
Here is the problem:
Here is my solution to part a):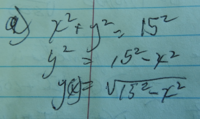 Here is my try at first part of part b):
This the part of the problem that stumps me. I know there is a fallacy here but...I don't know any other way to proceed. thee must be some reason that the author stresses that the triangle was drawn withing a semicircle. Also I recognize the expression I worked out for part a) describes a semicircle....so how to proceed with this?