Joined

Jan 10, 2018
Messages

895
Here are the two problems I am going to ask about: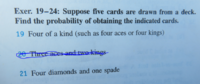 Here are the solutions of these two problems from the solutions manual:
and here is what I did with them:
Now, my question is: Why doesn't my solution for 19 not work? It seems to me that we are choosing 4 cards from 13, no? So why in 19 does the manual say the numerator is 13 times 48 instead of 13C4 times 48? What the soluitons manual seems to be saying is: 13C1 times 48C1....what is the difference in these two problems that the first term in the numerator is different in 19 for the first term in 21?