I have a problem that involves a triangle.
We are supposed to find the area - of course we can use 1/2 bh.
ADDED INFORMATION
The entire question is like this:
Consider the graph of the continuous function f in the figure and let F(x)=0-x f(t) dt.
Assume that the graph consists of a line segment from (0,-2) to (2,2) and two quarter circles of radius 2 (see screenshot of graph below).
(Problems 1-3n these pages are based on the function y=f(t) shown on the graph (see screenshot below)
Question #1 Evaluate F(1). I used the 1/2 bh formula and found that the area was 1. This answer is correct.
Question#2 Evaluate F'(1). Use Fundamental theorem of Calculus, part 1. The answer was 0
Question #3 Evaluate F''(1). Use Fundamental Theorem of Calculus. The answer is 2
I found the area was -1. This was the answer to the question "Evaluate F(1)"
After that I was asked the following:
What is F'(1). I assume this would be the derivative of -1, which would be zero? The answer is zero. Not sure if this is the reason
The last question is "Evaluate F''(1). Apparently the answer is 2, but I have no idea why.
I was told this: F''(x)=f'(x) and F''(1)=f'(1)=2. Can someone help out? The graph is below: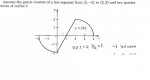 Last edited: