Joined

Aug 30, 2019
Messages

851
Hi, I need help with this question.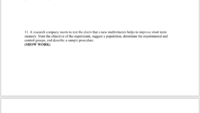 Objective of the experiment
To test if the multivitamin made by a research company is beneficial or not for abolishing short term memory.
Population
The best candidates for a test would be people suffering from short term memory.
Experimental and control groups
Suppose 70 people are being tested in the experimental group and 60 people reside in the control group.
Sample procedure
Select 70 patients from the hospital in the experimental group, then provide the multivitamin for several months to determine if their memory has improved in comparison to patients in the control group.
I've been having trouble with this problem and coming up with a general population for some time.